Details

Created on Saturday, 02 January 2010 01:00
The

Blessed

Monsignor Luigi Novarese - Founder of CVS and SODC.
The Founder of the association, Msgr Luigi Novarese, personally experienced a long-term stay in a hospital and the consequent feeling of uselessness and frustration given by a permanent illness; it was then that he approached the only truth capable of offering an answer to the suffering man: faith and joining up with Christ crucified and resurrected.
This personal experience allowed Msgr. Novarese ( expert in suffering and in Mary matters) and Sister Elvira Myriam Psorulla to convey the dramatic appeal from the world of suffering and the earnest requests of the Blessed Virgin Mary Immaculate to a same answer: the apostolate of CVS. Its members are suffering people that accept the exhortation of the Blessed Virgin to discover in Jesus Christ crucified and resurrected the only offer of sense and salvation for their life and the unavoidable call to become announcers of the Gospel.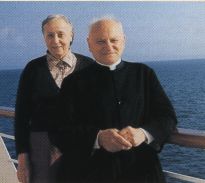 Saturday, March 27, 2010, Pope Benedict XVI has given approval for publication of the Decree on the heroic virtues of Bishop Luigi Novarese, which can be called "Blessed".
The Beatification is the day May 11, 2013, in Rome at the Basilica of St. Paul Fuori le Mura.
T

o

learn more

:
Go to site: www.luiginovarese.it
Biografia, storia, notizie, iniziative, testi per la meditazione e molto altro su Luigi Novarese.
L'Ancora Luglio/Agosto 2012 (14,7Mb)
Numero speciale in memoria di Mons. Luigi Novarese, Fondatore dei Silenziosi Operai della Croce e del Centro Volontari della Sofferenza.

Edizioni CVS: