Home Page - English
Details

Created on Saturday, 02 January 2010 01:00
The

Blessed

Monsignor Luigi Novarese - Founder of CVS and SODC.
The Founder of the association, Msgr Luigi Novarese, personally experienced a long-term stay in a hospital and the consequent feeling of uselessness and frustration given by a permanent illness; it was then that he approached the only truth capable of offering an answer to the suffering man: faith and joining up with Christ crucified and resurrected.
Details

Created on Monday, 01 March 2010 01:00
With great joy the news that has just reached us from the recognition of heroic virtues of our founder, the Servant of God Archbishop Luigi Novarese.
Our gratitude is transformed into praise as we pray that his example of holiness, approved today by the Church, guide our apostolic and spiritual paths.
Details

Created on Monday, 30 November 2009 01:00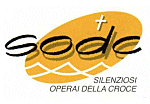 The activity of CVS is held in cooperation with the Silenziosi Operai della Croce (Silent Workers of the Cross), an association of consecrated people sprung up within the same context of evangelization; they are totally devoted to apostolate as an aswer to the basic need, typical of each charisma, of finding in the dedication of oneself a total and radical fulfilment.
Details

Created on Monday, 30 November 2009 01:00

CVS - Centro Volontari della Sofferenza (Apostolate of the Suffering) is an association of laymen whose purpose is, with combined efforts, the apostolate for a complete emancipation of suffering persons, through a work of evangelization and teaching of catechism directly carried out by the handicapped.
Details

Created on Monday, 16 July 2012 10:16
My name is Fr. Edward Mwenda and I come from the diocese of Meru in Kenya. After making a written request to the president of Confederation CVS International in Rome, on how to start the C.V.S association in our diocese as well as other requests pertaining the same, she suggested to me to go to Mouda in Cameroon and see the CVS in operation, all in all thanks for the materials sent me via e-mail together with the statutes of the CVS. They have helped us a great deal as we continue establishing CVS groups in the diocese of Meru.
Details

Created on Thursday, 05 April 2012 11:32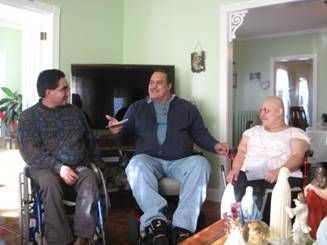 HOLYOKE – On Jan. 18, 1994, the life of Anibal Perez changed forever.
The native of Guican, Colombia had completed the equivalent of an associate's degree and two years' study of philosophy, making him eligible to fulfill his dream of becoming a diocesan priest by studying theology.
But eight days before he was scheduled to enter the seminary, he fell out of a tall pine tree he was trimming on his family's farm. The accident nearly killed him, and permanently paralyzed his entire lower body. It also ended his hopes of becoming a priest or brother in Colombia.